Xuan Yee
University of Oxford '23
Meritocracy is generally celebrated as an ideology that promotes equality of opportunity, and hence, seen as just. In this publication, Xuan Yee interrogates this view by exploring the moral, psychological, and intellectual ramifications of meritocracy when taken to its extreme. He argues that an unquestioned belief in meritocracy is dangerous, for it encourages the successful to justify their own moral deservingness of their position in society, and thus, legitimizes inequality.
A 4000 word research project presented in the format of an IB Extended Essay. Graded 33/34 by the IB Examining Board.
Satire article published in a newsletter that has been running for 19 years.
Color In Storytelling | Aesthetic Film & Animation Montage​
During my internship at Signify (formerly Philips Lighting), I designed showroom demo videos to demonstrate Philips Hue's IoT capabilities. This video shows some sample footage.
MATLAB Cody Coding Competition
You can download the application below (note: only works on...
Read More
e-Learning [not for credit]
Machine Learning Onramp [Mathworks Training Services]
Exploratory Data Analysis with MATLAB [Coursera]
Enterprise Design Thinking Practitioner [IBM]
Mastering Data Analysis in Excel [Coursera]
Introduction to Data Analysis Using Excel [Coursera]
Introduction to Marketing [Coursera]
Computer Science 101 [Stanford Online]
Open Source Leader [Common Purpose]
Problem Solving with Excel [Coursera]
Advanced MATLAB for Scientific Computing [Stanford Online]
Introduction to Programming with MATLAB [Coursera]
Deep Learning Onramp [Mathworks Training Services]
MATLAB Onramp [Mathworks Training Services]
Six Sigma Yellow Belt [6sigmastudy]
wp_wpbooklist_jre_saved_book_log
Total Books: 39
Finished: 39
Signed: 39
First Editions: 39
Total Pages Read: 14,897
Categories: 0
Library Completion: 100.00%
"I assign myself no rank or any limit, and such an attitude is very much against the trend of the times. But my world has become one of infinite possibilities." - Ralph Ellison, Invisible Man
1
Thinking, Fast and Slow1
2
Quiet: The Power of Introverts in a World That Can't Stop Talking1
3
Outliers: The Story of Success1
4
The Language Instinct: How the Mind Creates Language (Perennial Classics)1
5
Excellent Sheep: The Miseducation of the American Elite and the Way to a Meaningful Life1
6
Nature Via Nurture : Genes, Experience and What Makes Us Human1
7
Phantoms in the Brain: Probing the Mysteries of the Human Mind1
8
The Man Who Mistook His Wife For A Hat: And Other Clinical Tales1
9
Consciousness Explained1
10
The Paradox of Choice: Why More Is Less1
11
How the Mind Works1
12
Sapiens: A Brief History of Humankind1
13
The Private Life of the Brain: Emotions, Consciousness, and the Secret of the Self1
14
Homo Deus: A Brief History of Tomorrow1
15
The Brain That Changes Itself: Stories of Personal Triumph from the Frontiers of Brain Science (James H. Silberman Books)1
16
Behave: The Biology of Humans at Our Best and Worst1
17
The Future of the Mind: The Scientific Quest to Understand, Enhance, and Empower the Mind1
18
Everybody Lies: Big Data, New Data, and What the Internet Can Tell Us About Who We Really Are1
19
The Tale of the Dueling Neurosurgeons: The History of the Human Brain as Revealed by True Stories of Trauma, Madness, and Recovery1
20
Are We Smart Enough to Know How Smart Animals Are?1
21
Idiot Brain: What Your Head Is Really Up To1
22
Bad Science1
23
Stumbling on Happiness1
24
Descartes' Error: Emotion, Reason, and the Human Brain1
25
Intuition Pumps And Other Tools for Thinking1
26
Why We Sleep: Unlocking the Power of Sleep and Dreams1
27
The Shallows: What the Internet Is Doing to Our Brains1
28
Reflexions1
29
The Autistic Brain: Thinking Across the Spectrum1
30
Success and Luck: Good Fortune and the Myth of Meritocracy1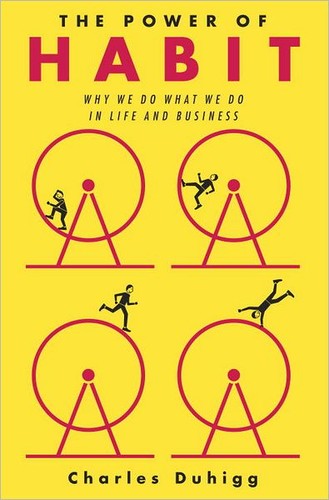 31
The Power of Habit: Why We Do What We Do in Life and Business1
32
The Story of the Human Body: Evolution, Health, and Disease1
33
The Molecule of More: How a Single Chemical in Your Brain Drives Love, Sex, and Creativity―and Will Determine the Fate of the Human Race1
34
Enlightenment Now: The Case for Reason, Science, Humanism, and Progress 1
35
Irrationality: The Enemy Within1
36
Fooled by Randomness: The Hidden Role of Chance in Life and in the Markets 1
37
Inside the Nudge Unit: How Small Changes Can Make a Big Difference1
38
Nudge: Improving Decisions About Health, Wealth, and Happiness1
39
Misbehaving: The Making of Behavioral Economics1